Our Pet Esthé product series was introduced in the World
News page of The Times, the British newspaper. [ Detail ]

We participated in the International Trade Fair
for Pet Supplies. [ Detail ]

If you would like to purchase Pet Esthé products in the Euro Zone, please contact the following exclusive Pet Esthé agent
in the EU which would refer you to your local distributor.
If your area does not have a Pet Esthé distributor, you can purchase them from the exclusive Pet Esthé agent.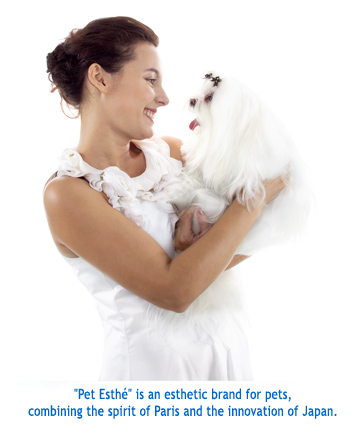 Pet Rejuvenation is Our Theme
There are four elements to pet rejuvenation: coat improvement, skin improvement, coat color improvement, and healing of both pet and human.
In accordance with the philosophy of A.D. Prince Paris of France, using aromatherapy, thalassotherapy and oriental-style massage to work on the pet's emotions, and together with the world's first color restoration system, Pet Esthé aims to give pets with beautiful minds and bodies.